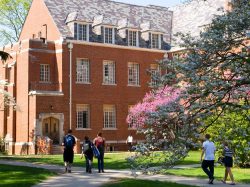 The Department of Human Development & Family Sciences (HDFS) focuses its research, teaching, and public engagement on a multidisciplinary understanding of 1) healthy development and wellbeing of individuals and families over the lifespan, 2) interactions and processes within families, and 3) individuals and families in societal and cultural contexts.
We are committed to excellence in research, teaching, and public engagement through our core values of individualized mentoring, innovation and leadership, diversity and equity, and applied/translational science.
Areas of Study
Child and Adolescent Development

Adulthood, Aging, and Gerontology

Couples, Parents, and Families

Health, Wellbeing, and Prevention

Diversity and Culture
Undergraduate students receive a Bachelor of Arts degree in HDFS. The HDFS major is offered at the main campus in Storrs, and at regional campuses in Hartford, Stamford, and Waterbury. Learn more about our HDFS Undergraduate program and our Honors Scholar Program.
Graduate students can earn a PhD and/or a Master's Degree in HDFS. Learn more about areas of specialization within the Graduate program.
The Department is home to the following centers:
---
HDFS is in the College of Liberal Arts and Sciences (CLAS), which is home to 24 departments spanning the life, physical, and social sciences, and the humanities. The College forms the academic core of learning and research at UConn, empowering students with broad knowledge, transferable skills, and an ability to think critically about important issues.
The University of Connecticut is ranked the best public university in New England and among the Top 20 public universities in the U.S.