Graduate students in UConn's Human Development and Family Sciences department study the diverse ways in which individuals develop within their social and familial contexts across the lifespan. They examine theory, develop and evaluate intervention/prevention programs, and engage in research to advance the field and, above all, to benefit the lives of individuals and families globally
Research interests of the Department's faculty and graduate students currently cluster in five overlapping areas of specialization
Strengths of the UConn HDFS graduate program
Multidisciplinary: Our faculty come from a range of disciplines and their research cuts across the lifespan and multiple contextual settings
Individualized mentoring: Our student-centered advising model allows students to tailor their plan of study to meet their research interests and specific career goals in academic and/or applied settings
Diversity and culture: Our graduate courses and many faculty's programs of research consider diversity on a number of dimensions, including but not limited to gender identity, sexual identity and orientation, race and ethnicity, culture, disability/abilities, religion, economic status, disparities, and local community functioning and norms
Health and wellbeing: At the core of all of our training and research is an interest in identifying processes and mechanisms for individuals' and families' health and wellbeing across the lifespan
Quantitative and qualitative methods: The methodology curriculum includes courses in quantitative and qualitative methodology, providing students with the tools to address research questions with a range of techniques
Applied/translational science: Students are trained to do research at the intersection of advancing basic scientific knowledge and developing knowledge that can be directly applied to real world settings. Our research works to understand individual and family development, and to see this knowledge used to improve the human condition
The HDFS program at UConn allows students to earn either a Master's or Doctoral degree
HDFS Graduate Program Alumni: Where are they now?
Research universities.  HDFS alumni work as tenure-line and research faculty at universities and colleges around the United States and the world, including Yale, Johns Hopkins, Tufts, Bowling Green State, California State, Ohio State, Texas Tech, Minnesota, UConn, Rochester, and University of the Andes
Teaching-oriented universities.  HDFS graduate alumni work as tenure-line faculty at many liberal arts and teaching-oriented universities, such as Smith, Wheelock, Lewis & Clark, SUNY Oswego, and Central CT State
Research institutes.  HDFS graduate alumni work at research institutes across the United States, including National Cancer Institute, James Bell Associates, and the Wilder Foundation
What else can you do?  No two careers are the same! Alumni have used their training and skills for a range of careers as consultants, as researchers at universities and hospitals, forming their own companies, and even doing research at Lego Foundation
Graduate Certificates:
The Graduate School and the department offer a number of Certificate Programs in related disciplines to complement the HDFS Master's and Doctoral degrees. Popular certificate programs in HDFS include:
The Graduate School website has a full list of available Certificate Programs for Master's and Doctoral students.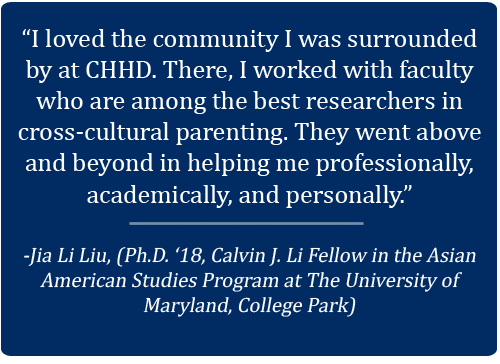 Master's Studies
The HDFS program also offers graduate study leading to a Master's degree in Human Development and Family Sciences. Individuals interested in advancing their professional skills in parent education, prevention and health promotion, or program evaluation may apply for a Master's degree to pursue study in one of our five areas of specialization.
M.A. applicants
 should contact 
faculty
 in their interest-area to learn about opportunities. M.A.-only students are not guaranteed support through departmental assistantships, but are offered these opportunities whenever possible.