Welcome to the Department of Human Development and Family Sciences at the University of Connecticut. Students who complete the undergraduate program (HDFS Major) receive a Bachelor of Arts degree. For information about a major or minor in HDFS, please visit our major/minors information page. We also offer a minor in Gerontology!
HDFS Student Services Center
At the Storrs campus, the HDFS Student Services Center offers a home base to our student community, providing services and information about our program. Some of these services include:
Quick Links:
Featured Student: Caira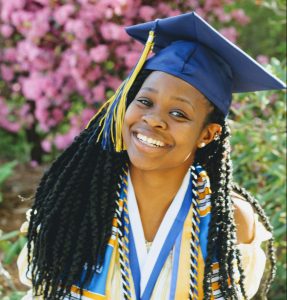 I am an honors student majoring in HDFS with a minor in Urban and Community Studies. My primary interest in HDFS is understanding the effects of culture on adolescent development and establishing healthy communities that can improve the quality of life for families across various urban settings. In my time as a student I have received the 2018 Social Sciences, Humanities, and Arts Research Experience (SHARE) Award to participate as a research assistant on African American Breast Cancer Survivors, a study designed to analyze the positive and the negative experiences of African American Breast Cancer Survivors (AABCS) located in urban cities in Connecticut. I've also designed my own research study for my honors thesis, The Social Influence on HIV Testing Among Black Students at a PWI, that analyzed how much a student knew about HIV/AIDS in terms of prevention and risks and how using social media platforms might influence their choice to get HIV tested. On campus, I've participated in many organizations and forms of community service which helped develop me as a leader and afforded me the opportunity to be a recipient of the 2019 Cohen Student Leadership Scholarship Award. Currently, I serve as the President of the Nu Mu Chapter of Sigma Gamma Rho Sorority, Inc. and attend Alpha and Omega club meetings and volunteering for my church on campus (Storrs Church of Christ). I've also had the opportunity this past year to participate on an Urban Development, Education, and Civic Development Alternative Break in Detroit that taught students about urban and civic engagement through community partners, local volunteering, and afterschool services. After graduation, I plan to matriculate in New York University's Shanghai/New York MSW program where I will travel abroad to Shanghai, China for the first year, and return to New York in Fall 2020. I would like to continue my passion for service by working in non- profits and helping to improve communities. I also plan to continue my education and eventually obtain my PhD in Social Work.