BA '96 Psychology, MS '89 HDFS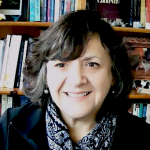 Rona J. Karasik, Ph.D., FAGHE, FGSA is a Professor and Director of the Gerontology Program at St. Cloud State University. Rona, daughter of UConn alumni Gail Zieky Karasik (BS '58 Pharmacy) and Sheldon Karasik (BS '57 Pharmacy), graduated from UConn with a BA in Psychology (1986) and an MS in Family Studies with an emphasis in Gerontology (1989). Using the skills she learned from her Family Studies mentors (Dr. Nancy Sheehan, Dr. Tom Blank, Dr. Steve Wisensale, and Dr. Lucille Nahemow), Rona went on to earn her doctorate in Individual and Family Studies from the University of Delaware in 1993. That same year, Rona joined the faculty at St. Cloud State University in St. Cloud MN (where hockey, not basketball, reigns). She has taught Gerontology and conducted research there ever since.
Over the years, Rona's research focus turned from family caregiving and senior housing to experiential learning and gerontological pedagogy. She is the author of numerous publications and presentations on gerontology internships, service-learning, classroom- and community-based activities, and incorporating anti-racist pedagogy into the gerontological curriculum. Teaching has become a passion for Rona – a fact that may surprise her Family Studies classmates who knew her to have a fear of public speaking.
Rona holds fellow status in both the Academy for Gerontology in Higher Education (AGHE) and the Gerontological Society of America (GSA) and is the recipient of local and national teaching awards, including AGHE's "Distinguished Faculty" award. Currently, Rona is working with colleagues, including UConn HDFS Professor Dr. Laura Donorfio, on a textbook for gerontology interns. Most recently, Rona was appointed editor-in-chief of Gerontology & Geriatrics Education, the official journal of the Academy for Gerontology in Higher Education. 
As for her greatest accomplishments, Rona points to the two daughters she and husband, UConn alum Laurin Hafner, Ph.D., have raised. Their eldest is currently a doctoral candidate at Cornell University and their youngest will be graduating this spring as a 3rd generation UConn Husky!
---