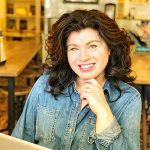 Jennifer Cecarelli graduated from UConn in 1991 with a BS in HDFR, and a concentration in Early Childhood Education and Development. As a passionate educator, Jennifer was excited about working with young learners and their families at the beginning of their educational journeys. After graduating from UConn, Jennifer began her career as a well-prepared early childhood educator (thanks to an amazing experience with the UConn Child Labs), while pursuing an MS and certification in Elementary Education at Southern Connecticut State University (SCSU). While working toward her MS, Jennifer was the Assistant Director of the Yale Law School Early Learning Center (YLSELC) in New Haven, and her thesis project was to lead the YLSELC through their inaugural NAEYC accreditation.
After receiving her MS from SCSU, Jennifer simultaneously began her elementary teaching career with the Middletown Public Schools and worked as an Early Childhood Education Consultant for over 20 childcare centers across Connecticut. As a consultant, Jennifer worked with early childhood programs on staff development, enhancing curricula and adult/child interactions, and providing workshops for families raising children. For the past 27 years Jennifer has worked as an elementary educator in the Middletown Public Schools, earned her National Board Certification from the National Board for Professional Teaching Standards (NBPTS), and her Sixth Year Certificate from SCSU. Jennifer has also served the Middletown Public Schools as a Diversity, Equity, and Inclusion (DEI) coach, a TEAM Mentor for new teachers, and a cooperating teacher, fostering the development of many student teachers and interns in her classroom. Jennifer was recognized as the Connecticut PTA Elementary Educator of the Year in 2020.
Jennifer had the honor and privilege of serving her community as a member of the North Haven Board of Education from 2013-2022. Her experience as both an educator and a parent brought a unique perspective to the Board, as did her unwavering commitment to equity and inclusion in all areas of the educational experience.
In 2022, after an intensive year long program, Jennifer earned her Parent Coach Certification from the Parent Coaching Institute. Working with families raising children has been at the heart of Jennifer's work since her time at UConn, and to date remains one of her greatest joys and privileges.
Jennifer credits her time in the UConn School of Family Studies with helping her to discover her lifelong passion and hone her skills so that she may always be of service to others as an educator, coach, and collaborator.