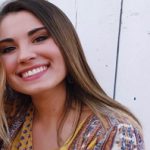 Annika Anderson graduated with a bachelor's degree in Human Development and Family Sciences in the spring of 2020 and completed the Early Childhood Specialization program. As an HDFS student, she received the 2019 Clyde A. Jones Scholarship in Human Development and Family Sciences and the 2020 Outstanding Senior Award. Annika is passionate about studying the dynamic relationship between early education and lifelong health outcomes.
Annika loved the Early Childhood Specialization program because it challenged her to consider how relationships, play, curriculum design, and other environmental factors influence the development of the whole child. She spent two semesters doing her practicum in the infant and toddler classrooms, applying her coursework to practical experience. These classes helped her develop confidence, that she describes as the highlight of her undergraduate career. As a former biology major, Annika was drawn to the Early Childhood Specialization program because of its multidisciplinary nature, the fact that the program pushed her to think in ways that she otherwise wouldn't, and its consideration of child development as both a science and an art. Annika describes the program as the perfect avenue for students who are interested in working with children in their future careers.
Stemming from her involvement in the program, Annika has worked for the International Rescue Committee (IRC) in New York City as both an intern and a contracted early childhood consultant. This work included involvement in early childhood development projects, including Ahlan Simsim, a collaborative humanitarian initiative created by the IRC and Sesame Workshop (funded by LEGO and the McArthur Foundation). Annika is currently pursuing her Master's Degree in Public Health at UConn. She largely draws from her experiences, skills and knowledge from the UConn Early Childhood Specialization program to continue studying early childhood development education and health.