Associate Professor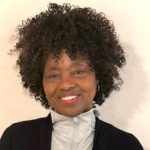 Dr. Edna Brown has a background in developmental psychology, sociology, and social work with an interdisciplinary approach to research. She earned a Joint Doctorate in Developmental Psychology and Social Work from the University of Michigan. During her graduate career, she engaged in research endeavors at the Institute for Social Research and was a member of the Life Course Development Program and the Program for Research on Black Americans.
Dr. Brown's research focuses on the impact of stressful life transitions on health and wellbeing during middle and later adulthood. Coping with relationship breakups and coping with illness are two major life transitions that affect a large percentage of our adult population. Using life course theories, she examines how social contexts (i.e., gender, social class, family configurations, social relations) and cultural contexts (i.e., race, ethnicity, religion), affect coping, health, and wellbeing during normative and non-normative life transitions, particularly among Black Americans. These social and cultural contexts provide meaning and substance for interpreting research findings. Dr. Brown also considers the factors that influence Black Americans' health promoting behaviors and the development of health promoting interventions to reduce health disparities. An interdisciplinary theoretical framework permits her to provide practical implications that address societal concerns. She has published numerous peer-reviewed journal articles and book chapters, and presented at many national and international scholarly conferences on health and aging. Several of her publications and conference presentation were co-authored by graduate students. Dr. Brown is a fierce advocate for graduate students and has enjoyed including them in her research endeavors.
Dr. Brown's interest in aging and health was further inspired when she and her son lived in Accra, Ghana in West Africa. She worked for the United Nations HelpAge Ghana project providing health, housing, and employment services for older adults across Ghana. While there she had the opportunity to visit several West African regions and quickly recognized many of the cultural traditions practiced among Black Americans. The similarities provided her an insight into the historical contexts and reasons for many of the traditions and how they were modified to promote healthy development among Black Americans.
Dr. Brown's teaching incorporates her knowledge and passion about culture and diversity and about healthy aging. She has taught Diversity in HDFS every semester since 2007 and frequently teaches Adulthood and Aging. These classes help students to open their minds to the diversity among them, dispel negative stereotypes about people unlike themselves, and recognize that development continues past adolescence.
Dr. Brown has served her professional community in several ways. She served on the University's Diversity Equity and Inclusion Advisory Committee, the Vice Provost COVID-Focused Work Balance Task Force, and the General Education Oversight Committee (GEOC) Content Area 4 Diversity and Multiculturalism. She is a faculty affiliate and serves on the advisory Boards of Africana Institute. Dr. Brown has served as a peer reviewer for several academic journals and conferences, and has been invited to serve on the editorial board for the Journal of Marriage and Family. One of her most challenging but rewarding roles was as Associate Department Head for Graduate Studies. The position gave her an opportunity to sensitively serve and mentor graduate students as they were making critical decisions about their professional development.
Dr. Brown has served her home community in various positions. From 2014-2017 she was appointed to the African American Affairs Commission by Connecticut House Majority Leader Joseph Aresimowicz. The committee served as advisors to CT policy makers about the unmet needs of African American constituents. She also served on the Board of Directors for Rockville Public Library, Vernon-Rockville CT from 2014-2018.
When not working, Edna enjoys strength training, walking, spinning, and dancing. She loved travelling to Caribbean, Central and South American countries to learn about different cultures, traditions, foods, and indigenous religions.
As of June 2022 Edna, will retire from UConn to enjoy traveling again. Another retirement goal is to work with elementary school children in underfunded public schools in vulnerable neighborhoods in her hometown, New York City. She hopes to expose these students to higher education opportunities beginning at a young age.
---