Professor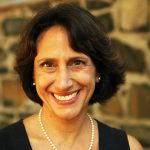 Marlene Schwartz is a Professor in HDFS and Director of the Rudd Center for Food Policy and Health. She grew up Columbia, Maryland and graduated from Haverford College in Pennsylvania with a BA in Psychology in 1988.  After college she moved back to Maryland and worked for two years as an RA in Marion Radke-Yarrow's lab at the National Institute of Mental Health.
In 1990, Marlene moved to New Haven to begin graduate school in Clinical Psychology at Yale.  Her first two years, she worked with Edward Zigler and participated in the Bush Center for Child Development and Social Policy. In her third year, she began working with Kelly Brownell and shifted her focus to the clinical treatment of eating disorder and obesity. She completed her pre-doctoral clinical internship at the Substance Abuse Treatment Unit at the Yale School of Medicine.
In 1996, Brownell hired Marlene as the Co-Director of the Yale Center for Eating and Weight Disorders, where she provided treatment for adults and children, and supervised graduate student and post-doctoral trainees. In the early 2000's, there was a notable increase in the number of children with obesity who were presenting at the clinic. Marlene delivered family-based obesity treatments, but increasingly felt like her efforts to help families were undermined by the unhealthy food environment. She saw the power of food marketing and the lack of healthy options in schools as significant obstacles for her patients and decided to shift her research focus to documenting the poor nutritional quality of children's cereals, restaurant "children's meals," and school food. Concurrently, her own children were in preschool and elementary school, so she also got involved as a parent in trying to make changes in these settings.
In 2006, Kelly Brownell asked Marlene to be the Deputy Director as he founded the Rudd Center for Food Policy and Obesity. Marlene's research focused on improving school nutrition environment. She collaborated with the Connecticut State Department of Education to assess school wellness policies and advocated for the 2006 law to remove beverage vending machines from schools. She developed an online Wellness School Assessment Tool (www.wellsat.org), which helps school districts comply with USDA regulations and has been used to code thousands of policies since 2010.  Michelle Obama's Let's Move initiative provided new opportunities to contribute to the national conversation, including a visit to the White House to celebrate the regulations that emerged from the Healthy Hunger-Free Kids Act.
In 2013, Marlene became the Director of the Rudd Center and in 2015, the Rudd Center moved to UConn to join InCHIP and set up offices in Hartford. Marlene joined HDFS where she teaches an undergraduate course, "Food and the American Family." She continues to study school wellness policies and has expanded this work in collaboration with her Neag colleague, Sandy Chafouleas, to consider the whole child.  She also has a second line of research on how to improve nutrition in the food banking system, which was inspired by her experience as a board member of the Connecticut Food Bank. Through this work she has developed an app that helps food bankers assess and track the nutritional quality of their inventory. Looking back, her favorite projects are ones that combine research, advocacy, and creating practical, data-driven tools for use in the field.
---