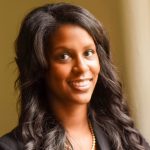 Diondra Brown graduated with a bachelor's degree in Human Development and Family Studies and Psychology in 2015. She desired to merge her academic areas of interest and pursued a master's degree in Clinical Social Work at the University of Pennsylvania. While there, she studied evidenced-based therapy for children and families, in addition to conducting child-welfare policy research. During her time in graduate school, Diondra expanded her knowledge about family dynamics, trauma-informed treatment, and child development. Her field placements provided her with a wealth of experiences as she had opportunities to work in an early childhood learning academy, infant and child laboratory, residential treatment program, and outpatient mental health center.
Upon graduating from the University of Pennsylvania in 2017, Diondra worked as a child and family psychotherapist for several years with the University of Pennsylvania Health System. Her clinical work focused on play therapy, trauma therapy, and family therapy. Her clients' diagnoses ranged from anxiety to attachment disorder. In addition to her clinical work, she pioneered the creation of a therapeutic preschool for 3- to 5-year-old children with a diagnosis of autism spectrum disorder or early childhood trauma and co-facilitated a maternal stress group for mothers and their infants. Given her passion for learning, Diondra mentored several graduate students during her time as a therapist and served as an adjunct professor at Thomas Jefferson University in 2020.
During the same year, she began to transfer her knowledge and skills into the world of children's media, by serving as a consultant for global children's media companies. She also took on a part-time role with Common Sense Media, as a Diversity, Equity, and Inclusion reviewer for children's picture books and television shows. She is currently the Child Development & Education Manager at Twin Cities PBS. She leads content creation and curriculum development for the station's newest Ready to Learn grant project, which aims to enhance executive functioning skills and career readiness for children in kindergarten through second grade. In her spare time, she volunteers as an officer for the Children's Media Association. Diondra believes that her academic pursuits at UConn provided her with the foundation she needed for future success, and the ability to pursue various career pathways.
---