Lecturer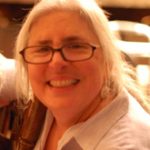 Meg Galante-DeAngelis retired June 1, 2022 after 49 years as a member of the UConn community. From her first step onto campus to retirement, the University offered Meg the opportunity to follow the most elusive and wonderful of all dreams – to make a difference in the lives of others. Learning together with her students as they developed their passion for supporting each child to flourish as an individual has been a life's work worth having.  The question she often asks is, "What if everybody understood child development?"
Always more comfortable being a worker bee rather than the queen, Meg has tried to be the best member of the HDFS community that she could be. Her gratitude to her colleagues and students, past and present, is immeasurable. Her special thanks to the teachers and administrators, past and present, at the UConn Child Development Labs are twofold.  She will be sustained by the wonder of days spent at the Child Labs in the company of children and will cherish the life-lasting gift of being seen and loved as individuals still enjoyed by her five children, all proud graduates of the Child Development Labs. Would that every child had this opportunity.
During her time at UConn, Meg was involved with the Child Labs in many ways – as undergraduate and graduate student, observer, learner and worker, in Infant/Toddler and Preschool Master Teacher positions, as Assistant Director/Program Coordinator, and as Faculty Advisor. Two of her proudest memories are working with Charlotte Madison to get the teachers at the Child Labs unionized and to design the CDL Infant Center. Meg has loved working with the other Early Childhood faculty who share her commitment to children. She is particularly interested in teacher preparation, advocacy for equity and social justice, quality care and education for infants and toddlers, and supporting first generation college students. She has taught every UConn Early Childhood Development and Education course. She and her colleagues help students develop active engagement in daily reflection and mindfulness that support best practice while recognizing self-care practices.  Meg was recently recognized for her excellence by two awards: the HDFS Faculty Teaching Award and the UConn-AAUP – Career Teaching Excellence Award.
Meg's career afforded her the opportunity to be around the amazing young people who choose Human Development and Family Sciences as their major. One of her favorite stories is about a student who, on an interview, was told, "You are like a unicorn. I did not know that people with the kind of early childhood training you have existed in the real world." Well, they do exist and they are out there making a difference in the lives of children and families every day.
In retirement, Meg plans to enjoy beauty and quiet on an island off the coast of Maine punctuated by visits from her gregarious and growing family. She looks forward to volunteering in her local community, hiking, doing genealogical and historical research, and perfecting 18th and 19th century cooking and other period crafting techniques.
---