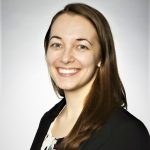 Aimee Roberge grew up in Connecticut, attended UConn from 2010-2014 and graduated with a double major in Human Development and Family Studies and Human Rights. During her time at UConn, she volunteered and participated in many clubs and activities including Habitat for Humanity, Love 146, Alzheimer's Association and Alpha Lambda Delta Honor Society. She also studied abroad in Cape Town, South Africa. One of her favorite HDFS memories is assisting a professor with coding therapy session recordings using the Rapid Marital Interaction Coding Manual for clinical observation data.
Upon graduation, Aimee participated in a summer program called LeaderworX, where she helped to facilitate community service projects for middle and high school students and planned group discussions and activities to educate youth about community service and social justice. After taking some time to reflect on her time at UConn and spending time with some little kiddos at her neighbor's day care, Aimee made a big move to the Big Apple for a volunteer program with Covenant House, a shelter for youth experiencing homelessness, where she worked with mothers and children. She worked at Covenant House for another year before returning to school at Baruch College to receive her Master of Public Administration degree. Her capstone project focused on an analysis of policies, practices, and nonprofit programs that impact children and their incarcerated mothers in New York State prison and city jail facilities. Aimee spent time in Washington D.C. during one of her semesters taking classes and interning, so decided to move there upon graduation.
In D.C, Aimee worked with the National Community Action Partnership for three years as a Program Associate with the Learning Communities Resource Center team and then as a Senior Associate for Learning and Dissemination. She helped to write multiple grant applications and manage virtual and in-person learning cohorts to provide training and technical assistance to a network of over 1000 Community Action Agencies in areas such as comprehensive services for children and families, equity, trauma-informed care, financial empowerment, and homelessness intervention.
Aimee recently transitioned to a new position with the Council for Exceptional Children as a Professional Development and Resources Coordinator. She enjoys living in Virginia and in her free time likes to spend time by the water, go on hikes, or curl up with a good movie or book. While life can get busy and there are so many opportunities and options available, Aimee tries to embody one of her new mantras: "people over plans:" don't live life only by your to-do list or you will miss a lot right in front of you. Make time for a few things that are really important, then let life's beauty and adventure unfold!
---