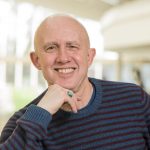 Joshua Miller received his Ph.D. from HDFS in 1997. He had previously earned an MSW and worked as a social worker for 20 years with individuals, families, and communities in Seattle, London, Dublin, and Western Massachusetts before entering the UConn HDFS program. He was also an assistant professor at Smith College School for Social Work while studying at UConn. Josh was a full-time professor at Smith College for 30 years before retiring as a full professor in July 2022. At Smith, he taught courses in social policy, community activism, anti-racism, psychosocial responses to disasters, and positive psychology. Josh also co-facilitated an ongoing seminar for faculty to deepen their competency with issues of oppression and social identity in the classroom called "Pedagogy and Diversity." He taught about responding to disasters at Beijing Normal University and Fudan University between 2008-2016 after responding to the Wenchuan earthquake in 2008.
Josh has published six books, including three editions of Racism in the United States: Implications for the helping professions, which he co-authored with Ann Marie Garran and Lisa Werkmeister Rozas (both professors at the UConn School of Social Work) and Hye-Kyung Kang, program director of the Seattle University School of Social Work. He published a book called Psychosocial capacity building in response to disasters and is completing a book with the working title of Psychosocial responses to sociopolitical targeting, oppression and violence: Intervention strategies for helping professionals.
In addition to his teaching and scholarship, Josh has responded to many disasters in his community, the U.S. and around the world. He is a member of a local team that offers critical incident responses to firefighters, police officers and emergency medical personnel in his community. He responded to Hurricane Katrina and 9/11 and has consulted with responders to school and community shootings. Internationally, he has worked in Sri Lanka, Haiti, China, and Canada in response to disasters and armed conflict.  He has also led a psychosocial and medical capacity building project in Northern Uganda since 2010 in response to a 20-year armed conflict.
Throughout all of his work, Josh has been concerned with confronting the affects of coloniality and white supremacy and Western cultural hegemony on the psychosocial well-being of the global majority residing in many different countries, and recovering and respecting indigenous practices. Although recently retired, he plans to continue his writing and responses to disasters and ongoing social targeting and oppression, along with spending time with his daughters and grandchildren. His experience at HDFS, particularly the knowledge, support, respect and flexibility that he encountered from his professors, provided him with a solid foundation for a very meaningful and productive academic and practice career.
---