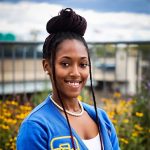 Ashley Dyer graduated from UConn in 2019 with a B.A. in Human Development and Family Studies with a concentration in Early Childhood Development. While at UConn, she was very fortunate to be involved in many club organizations and mentorship programs such as the Louis Stokes Alliance for Minority Participation (LSAMP), Preparing African American Students to Sustain Success (PASS) Program, Sisters Inspiring Sisters, and volunteer work through her sorority, Sigma Gamma Rho Inc. Her participation in these activities fueled her passion for working with children and families. She started at UConn wanting to be a sports medicine doctor and was on the pre-kinesiology track. As she went through her college career she quickly realized that that was not her true calling and ended up switching her major a few times. It was only when she took her first intro class in HDFS that she was hooked on a major. It was the HDFS 1070 course (Individual and Family Development) that really sealed the deal for her! It not only helped her learn a lot about herself but also led to her passion of finding a way to make an impact in families' lives outside of the classroom.
After she graduated, Ashley became an Early Intervention Service coordinator with a nonprofit organization under the Massachusetts Dept. of Public Health (MDPH). In this position, she was able to help the families of children from birth to three years old learn about child development and resources within their area for children with developmental delays. While working at MDPH Ashley was grateful to get into the world of Applied Behavior Analysis, or ABA therapy, through working with these same children. Two years later, she became a registered behavior technician and moved back to Connecticut where she now works with school-aged children with Autism Spectrum Disorder and other neuro-diverse developmental delays.
Being part of the HDFS community at UConn not only gave Ashley a sense of belonging but also allowed her to explore her interests to find out who she wanted to be and do in this world! To all those who may have thought about taking an HDFS course but are unsure… do it! You may never know what impact it might have on your life as it did on Ashley's. She is forever grateful to UConn's HDFS department and advisors for allowing her to find her purpose and true calling!
---