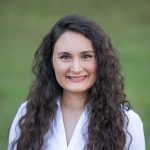 Dilara Yaya-Bryson is an early childhood education (ECE) scholar. In the Fall of 2022, she moved to Connecticut to join the UConn HDFS department as an Assistant Research Professor (i.e., College of Liberal Arts and Sciences Research and Teaching Scholar). She has been in academia for nearly fifteen years. Prior to coming to UConn, she worked as a graduate research assistant and lecturer in different universities in the United States and her home country, Turkey.
Dilara's interest in educational research started in 2008, after receiving her undergraduate degree in elementary education and teaching. While dreaming of academia, she began her graduate school journey with a master's program in educational administration at Hacettepe University, Turkey. During this period, she realized that educational administration scholars heavily focused on elementary education and onward. This realization lit a question in Dilara's mind: "How about early childhood education?" Therefore, in 2012, she decided to pursue a doctorate in early childhood education (ECE) at the same university and infuse her administrative perspective into ECE research. Dilara's research centers on how to improve the quality of ECE, emphasizing research, policy, and practice intersections.
"Quality" is an umbrella term for Dilara's research, which covers a range of parameters and policy considerations, including ECE classroom environment, workforce qualifications and professional development, administrative quality, and equitable and inclusive settings. For her first doctoral dissertation, she aimed to highlight the policy gaps in quality assurance of ECE settings in Turkey and inquire about successful examples abroad. The Scientific and Technologic Research Council of Turkey (TUBITAK) awarded her with an international doctoral scholarship. She came to the United States in 2015 as a visiting scholar to collaborate with professors at the University of North Carolina (UNC) Greensboro. For a year, she collected data to look into a well-established Quality Rating and Improvement System (QRIS) in North Carolina. During this process, she visited several ECE centers to observe classrooms and interview teachers, center directors, and state QRIS consultants. She also had the chance to join graduate classes and better understand the graduate school system in the US.
After a productive year and meeting wonderful mentors, she returned to UNC Greensboro as an international student in 2017 to pursue her second doctorate in HDFS. This time, she framed her dissertation study toward analyzing a US-based nationally representative dataset to explore Head Start classroom quality, workforce experiences, and policy connections. In 2021, she received her doctorate in HDFS with a minor in educational research methodology.
Throughout graduate school, Dilara also worked as a research assistant in various research project teams on ECE teacher preparation and professional development, quality measurement of ECE settings, dual-language learners in Head Start settings, and Montessori education. In addition to her research experiences, she has assisted, taught, and co-taught undergraduate courses on diversity, equity, and inclusion in ECE settings and human development. Dilara is thrilled about new research collaborations at UConn, focusing on effective infant and toddler services and policies. She also will be teaching human development to UConn undergraduate students.
Outside her professional life, Dilara loves traveling, daily meditative walks, whispering her orchids to bloom quickly, cooking (and eating!), watching comedy shows from the 1990s and 2000s with her husband, and virtual coffee dates with her parents overseas.
---