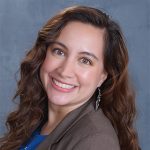 Andrea Lopez Salazar is a researcher, educator, and leader with a history of working in the K-12, higher education, and nonprofit sectors. Andrea graduated Magna Cum Laude in 2014 with a B.A. in Human Development and Family Studies and a minor in Women's, Gender, and Sexuality Studies. She credits her experience at UConn as fundamental to instilling a love of and curiosity for the social sciences. During her time at UConn, Andrea was engaged in research, particularly on projects related to ethnic-racial socialization among Black and Latinx families. She was the recipient of the Summer Undergraduate Research Fund (SURF) Award, OUR Travel Award, and the Social Sciences, Humanities, and Arts Research Experience (SHARE) Award.
After graduating from UConn, Andrea worked at the Stamford Public Education Foundation in Connecticut where she managed the organization's flagship mentoring program. Currently, she works at Columbia University's Community College Research Center where she conducts and publishes research on advising reform among first-generation college students and students of color. She is working on an IES-funded longitudinal, mixed-methods project to study the personal support networks of first-generation college students over their first and second year.
Outside of college access and equity, Andrea is very passionate about community-based research, arts education, and multilingualism. She works as an ESL teacher at Columbia's Community Language Program and has taught and tutored students from all over the world. Most recently, Andrea received a prestigious award from the American Education Research Association to lead a project on the experiences of predominantly limited-income Latinx families in a music education program during the COVID-19 shutdown. The study was funded by the association's Education Research Service Projects program, an initiative created to encourage education researchers to offer their pro bono expertise to educational organizations, institutions, or other community groups. She presented at the National Association for Music Education last fall and is looking forward to publishing her findings in English and Spanish this year.
Andrea holds an Ed.M. from the Harvard Graduate School of Education and a certificate in Teaching English to Speakers of other Languages (TESOL) from Teachers College, Columbia University.
In her spare time, Andrea enjoys swimming, playing piano, and learning new languages. She speaks Spanish and French and always enjoys experiencing new cultures!
---