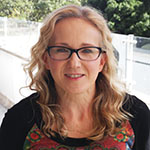 Maria LaRusso is a developmental psychologist and interdisciplinary scholar with research that integrates perspectives and approaches from human development, psychology, health, education, and anthropology. However, her work has been most profoundly shaped by her training in Human Development, and in particular Bioecological Systems Theory which explains how development is shaped through interactions between the individual and their surrounding contexts (family, school, community, etc.) which are nested within other systems that include cultural, economic, and political factors, as well as sociohistorical circumstances and change over time.  Early in her career, she also worked as a child and family therapist and brings a clinical perspective to her research. For instance, her training in structural family therapy solidified her approach to understanding pathology and well-being as not laying within the individual, but within the interrelated "systems" that make up one's world.
After completing a doctorate in Human Development and Psychology at Harvard University, Maria continued her training at the University of Pennsylvania and New York University with a Postdoctoral Education Research Training (PERT) Fellowship, which was created through a joint effort of the American Psychological Association and the Institute of Education Sciences to bring intervention research and experimental methods from psychology to educational settings. Her subsequent research focused on a range of social-emotional, behavioral, and risk prevention programs in schools, aiming to understand how interventions impact individuals and contexts and how individuals and contexts impact intervention delivery and success.
Maria's more recent research is driven by the need for programs with larger, more consistent impacts and the urgent need to address significant declines in youth well-being and mental health over the past decade. In her current studies she investigates factors contributing to these declines, including research with families, schools, and pediatric physicians and studies of youth with chronic health conditions that cause brain inflammation and psychiatric symptoms (PANS/PANDAS). She is also working on new interventions that aim to reduce stress and improve well-being and mental health among adolescents, with an emphasis on children's rights to healthy development.  In particular, she has two new studies to evaluate a pilot of a program for adolescents that bridges mindfulness-based stress reduction practices with self-care activities and social activism to advocate for changes to support both individual and collective well-being. The program is being piloted in Connecticut and Bogota, Colombia, where her research has been supported by two Fulbright awards.
Outside of work, Maria enjoys music, foreign films, reading, meditating, being in nature, and traveling (especially to Colombia and anywhere in Latin America), but most of all, she enjoys spending time with her husband (also a professor at UConn), their two daughters, and Lola, their spunky Havanese.
---