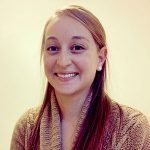 Meital Sandbank graduated with honors from The University of Connecticut in 2014. She majored in Human Development and Family Studies with a concentration in Early Childhood Development and Education. During her time at UConn, Meital worked at the Child Development Labs and was involved in Best Buddies Club and Human Development and Family Studies Club. She also participated in research investigating early signs of autism in infants. During her summers, Meital volunteered at Boston Children's Hospital, working with Child Life Specialists. She also volunteered at Horizons for Homeless Children, helping organize playrooms in shelters for children experiencing homelessness.
Shortly after graduating UConn, Meital joined the team at Horizons for Homeless Children, a non-profit organization dedicated to improving the lives of young children in Massachusetts by providing high-quality early education, opportunities for play, and comprehensive family services.
Meital started her work at Horizons as an Early Education Teacher working with infants and toddlers. During her time there, she has advanced into her current position where she runs Horizons' Infant Program. As part of this position, she oversees three classrooms with children ages two to fifteen months and supervises six teachers. Meital practices trauma-informed care as she works with children and families who are experiencing homelessness in Boston. She regularly uses her Spanish fluency to help improve communication with parents and children. She has given workshops to educators, started a music program for children, and is working to deepen Horizons' work by creating a social/emotional evaluation scale for infants in partnership with Harvard University. Meital has presented at fundraising events and was awarded Horizons for Homeless Children's Sue Heilman Award for Excellence.
Meital is currently pursuing her Master's Degree in Social Work from Boston University, hoping to continue working with children who have experienced trauma in a clinical, one-on-one setting.
---