Lecturer & Executive Director, UConn Child Development Laboratories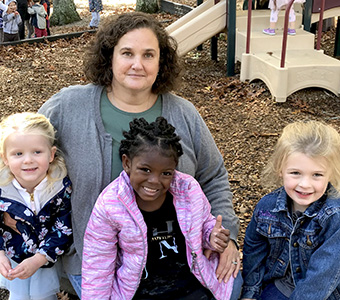 Anne Bladen has devoted her life to families and children in one way or another for the entirety of her career. After graduating with a BA in Anthropology from Bryn Mawr College, Anne moved to Connecticut and worked in Willimantic for three years as a bilingual Welfare Caseworker with the Town of Windham Social Services.  The timing of her work as a caseworker overlapped with the AIDS and burgeoning Opiod epidemics, the recession, and the gutting of social services and job training programs. After several of her clients died of drug overdoses and AIDS, and as increasingly fewer individuals and families qualified for much needed benefits, Anne realized that it was time for a career change to work where she could have an impact much earlier on in people's lives. As she explored how she might influence people earlier in the lifespan, Anne thought of her volunteer work with young children while in high school and college and applied to UConn's Teacher Certification Program for College Graduates.
Anne completed her student teaching and MA placements in special education in public preschool programs in Hartford. Her MA thesis focused on the use of Alternative and Augmentative Communication with bilingual children with special needs.  These experiences solidified her belief in the power of early intervention.  Following her time in Hartford, Anne taught special education for preschoolers and their typically developing peers as well as resource room support for students in grades K-4.
Anne has been a member of the UConn Child Development Labs (CDL) community for 25 years. Having attended the Smith College Campus School for her own elementary years, the CDL's mission of high quality education for children and college students was comfortable and welcoming when she became a kindergarten teacher at the CDL in 1996. She introduced the Writers' Workshop model into the curriculum, building on her love of reading and writing.  Anne incorporated her passion for nature into her teaching of both children and UConn students as she hatched chickens, grew potatoes, built birdhouses and planted 2000 daffodils in the circle outside the Child Labs in celebration of the millennium.
Anne's commitment to the wellbeing of young children led her to accept the role as Special Needs Coordinator at the Child Labs. While leaving the classroom as a teacher was a hard choice, she welcomed the opportunity to work with children, students, teachers and families in a different capacity. She was instrumental in combining ages to create a Preschool/ Kindergarten classroom. She supported teachers in meeting the individual needs of children and worked with other UConn departments to access resources for children and teachers.  At the same time, Anne became the instructor of two practicum classes at the CDL, allowing her to continue to help college students learn about the importance of the early years.
Anne moved into the role of Executive Director fifteen years ago, and continues to teach practicum classes, work with teachers, and support children.  Anne teaches her belief that all children should have access to high quality programs and that teachers should have the resources they need.  To this end, Anne has served in various community capacities during her career.  She chaired Mansfield Advocates for Children, coached and mentored several early childhood centers around the state in different stages of accreditation and helped them navigate the many facets of intentional teaching. Anne is an active member of NAACP and promotes understanding and diversity in both her professional and personal life.
Anne lives in an old house in the Mansfield Hollow Historic District and enjoys time at home with her daughter and two dogs. Her son is a 2019 UConn political science graduate who lives in Washington, DC. She is an avid gardener and quilter. You can find Anne outside in her gardens or at the river, hiking or exploring different biking trails.
---