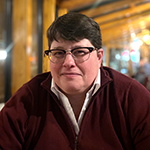 Cindy Stewart grew up in South Windsor, Connecticut, but she ventured up to University of Maine for her bachelors and master's degrees. She earned a B.A. in Zoology while enjoying a variety of extracurricular activities such as flamenco dancing and axe throwing. In her last semester, she conducted marine biology research on an NSF grant. Somewhere in an obscure journal issue from long ago is an article about Batesian mimicry in nudibranchs on which she was probably the seventh author. She learned a great deal about sea slugs and also that she didn't want to do marine biology research as a career.
After a year working at Eastern Mountain Sports and getting great deals on camping and hiking gear, Cindy returned to the University of Maine to earn her Master of Education in college student development. She funded this endeavor by graduate assistant positions as a residence hall director and community organizer. Thus began her career in student affairs and several more positions in residence life at SUNY Cortland and UMaine plus serving as director of new student programs and orientation. In her time in student affairs work she experienced a major fire on the top floor of her residence hall, an epic oatmeal fight in the basement, and all kinds of antics in between.
A move to the Boston area resulted in finding a job that straddled student and academic affairs, working as assistant director at the Experimental College at Tufts University. There Cindy recruited professionals from the greater Boston area to teach courses in their realm of expertise for Tufts undergraduate students. She did everything from print and digital marketing to office management to instructor orientation, plus taught a film studies course for a group of junior and senior undergraduates who in turn taught courses on film-related topics for first-year student advising groups. One of her proudest achievements was a multi-year series of monthly events for faculty to share their current research with a lay audience of students, staff, and faculty from across the university as well as members of the local community.
Another move, this time back to Connecticut, brought Cindy to UConn in 2013. A UConn women's basketball fan since her teens, she was excited to be a part of Husky Nation as a program assistant and then program coordinator in the Department of Communication. She is very excited to be joining HDFS as program administrator and looks forward to meeting everyone!
---