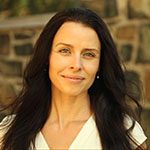 Dr. Rebecca Puhl is a Professor of HDFS and Deputy Director of the UConn Rudd Center for Food Policy & Health. She joined the HDFS faculty in 2015.
Rebecca was born and raised in Ontario, Canada. She completed her BAH in psychology at Queen's University in Kingston, Ontario, and then moved to Connecticut in 1999 to attend Yale University where she completed her MA and PhD in clinical psychology. She completed her clinical psychology internship at the VA Connecticut Healthcare System, and then returned to Yale as research faculty in the Department of Psychology and as core faculty of the Yale Rudd Center for Food Policy & Obesity (founded in 2005). In 2015, after 10 successful years at Yale, the Rudd Center joined UConn's Institute for Collaboration on Health, Intervention, and Policy (InCHIP). UConn's commitment to multi-disciplinary scientific collaboration and research on health and wellness provided new and ideal opportunities for the Rudd Center to further its mission and contribute to the national research reputation of the university.
Since 2001, Professor Puhl's research has addressed weight-based stigma and discrimination. She has authored more than 175 published research articles (most with student/trainee co-authors) and 24 book chapters on topics including weight-based bullying in youth, the impact of weight stigma on emotional wellbeing and physical health, weight stigma in health care and the media, and policy strategies to reduce weight-based bullying and discrimination. As a national research expert on these topics, Dr. Puhl has testified in state legislative hearings on weight discrimination and routinely provides expertise on strategies to reduce weight stigma to national and international health organizations. She has also developed evidence-based trainings to reduce weight bias in health care that have been implemented in medical facilities across the U.S., and her work is frequently cited in the U.S. national media.
Dr. Puhl has received multiple national awards for her research, from organizations like the National Eating Disorders Coalition, the Obesity Action Coalition, and The Obesity Society who selected Dr. Puhl as the 2018 recipient of the national scientific achievement award for excellence in an established research career. In 2021 she received the national Obesity Canada Distinguished Lecturer Award, awarded annually to a researcher whose scholarship has made a significant impact in the obesity field. That same year, she was the recipient of UConn's CLAS Faculty Excellence in Research Award in Public Scholarship, and was one of 6 UConn faculty named to the World's Highly Cited Research list.
Rebecca lives in Cheshire, CT, with her husband and two teenage sons. When she's not attending her boys' basketball games, swim meets, orchestra and jazz concerts, her favorite ways to spend time are hiking, baking, photography, and collecting sea glass on the coast of Maine.
---