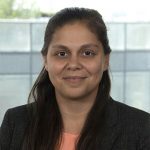 Katherine Velez received her B.A. in HDFS with a minor in Women Studies in Spring of 2010. She was involved in Zero Tolerance, a student activities organization and participated in the production of The Vagina Monologues. During her time at UCONN, she completed an internship at St. Luke's Lifeworks (now Inspirica), working at their women's shelter. She also participated in a mentorship program with middle school children through the Stamford Public Education Foundation. This experience helped cement her interest in working with vulnerable populations and encouraged her to think about plans for after graduation. Her advisor, Dr. Annamaria Csizmadia, and professors were integral and supportive of her decision to pursue a social work master's degree.
After graduation, Katherine earned her master's in social work with a clinical concentration from Fordham University. During her time at Fordham, she started working as a case worker at a local nonprofit, Person to Person, providing emergency assistance programs part time. She completed an internship with the White Plains Youth Bureau where she developed an after-work program for at risk youth in an immigrant community. She also completed her clinical internship at Norwalk Community Health Center where she provided individual psychotherapy to clinic patients. Upon completing her MSW, she started working full time for Person to Person and was promoted to Case Work Manager as the organization grew and branched out to a bigger catchment area.
In 2016, Katherine began working as a Research Coordinator at Columbia University Medical Center (CUMC) in the Pediatrics Department. She had the privilege of working in several clinical trials within her department, including working with mothers and children in the NICU at Morgan Stanley Children's Hospital and running mother-child groups in preschool settings. At CUMC, she earned the required hours toward her clinical license and is now a fully licensed social worker in the state of CT.
Today, Katherine is the Veterinary Social Worker at Cornell Veterinary Specialists in Stamford CT where she works with clients and supports staff in the day-to-day human issues that arise within the veterinary field and the human-animal bond. She is also in private practice.
Katherine's time at UConn helped her realize her goals of becoming a social worker. The staff and professors she met along the way forever impacted her life and the trajectory of it. It is because of these relationships that she was able to succeed and was prepared to pursue a master's degree. She will forever hold the UConn community in her heart and is grateful for her time in the HDFS program.
---