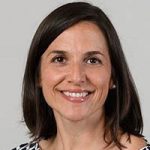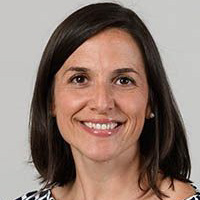 Mary Tabb Foley first joined the UConn community as an undergraduate student nearly twenty years ago. UConn was Mary's first choice to pursue her undergraduate studies. As a Connecticut native, it felt like the right place to spread her wings while being close to home in a community not all that different from where she grew up. At the start of her time at UConn, Mary was hoping to become an elementary school teacher. However, fate was at play when a course in a major called Human Development & Family Relations with a fieldwork opportunity presented itself. This fieldwork experience was at the Child Development Labs on campus and Mary was asked to complete her fieldwork hours in the infant classroom. That first day at the Child Development Labs put Mary on a new trajectory to pursue a career she knew much less about but knew without a doubt that she found exactly where she was meant to be.
Mary often shares with students how this chance semester led her to a find and follow a new path for a fulfilling and enriching career in early childhood education. After graduating from UConn, Mary worked directly in community-based early childhood education programs in Hartford and Willimantic. As an early childhood teacher, Mary cared for and guided learning for infants, toddlers, and preschool-aged children. During this time, Mary found frequent opportunities to build on her professional calling by volunteering in professional organizations, including the Hartford Association for the Education of Young Children and the CT Association for the Education of Young Children. These experiences fueled her desire to lead and have a meaningful impact on the lives of young children and their families. As a lifelong learner, Mary quickly discovered that she wanted to pursue an advanced degree in education. Mary earned her Master of Arts, dual-degree in Early Childhood Education/Early Childhood Special Education from the University of Saint Joseph, and a CT State Teacher Certification focused on birth through kindergarten. At this time Mary began working directly with some of the youngest children in Connecticut in the CT Birth to Three system. Mary has always believed that shifting perspective to see the world through the children she is with has incredible outcomes to meet each child where they are and respond to their unique needs. With a shift out of the classroom settings, Mary spent just over five years in a statewide program called the Early Childhood Consultation Partnership (ECCP). The ECCP is a mental health consultation program designed to build the capacity of caregivers by offering support, education, and consultation, to support social/emotional needs of children birth to five in CT. This position gave Mary the opportunity to apply all aspects of her professional experience to engage the closest caregivers of young children. Mary's professional opportunities have bridged the many roles that early childhood educators can have – providing high-quality education, supporting all aspects of development, and accessing community support to engage all of those important people in children lives.
In 2012, Mary followed what seemed to be fate, yet again, into another momentous opportunity and joined the UConn community on the Stamford Campus, as a lecturer and student program coordinator for the Early Childhood Specializations (ECS). This ECS was historically only offered at UConn Storrs for students in Human Development & Family Sciences. However, Mary introduced the specialization in Stamford to address the need for high-quality education for students looking to work with young children. After ten years in Stamford, Mary will continue within her role in HDFS and join the Storrs Campus as of Fall 2022.
Mary lives with her husband, two young sons and her dog, Nico, just over the state line in Longmeadow, MA. Mary is often busy with just life itself, finding ways to enjoy time with family and building a comfortable, loving home. However, her free time usually fills up with her other interests including reading, running, creating endless DIY projects, cooking/baking, organizing/finding ways to simplify life and dreaming up trips to places she will visit someday.
---