Associate Professor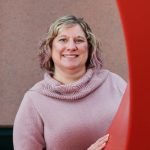 Dr. Kari Adamsons came to UConn 15 years ago, in 2007, following a journey that was anything but straightforward. Her first two years of undergraduate were as an international relations major with a specialization in Russian foreign policy (which has come in dismayingly handy in the last few years), but in her last two years she switched tracks and ultimately earned a BA in psychology. She then moved to North Carolina, ostensibly to work for a year and gain in-state residency before going back to graduate school in "something psychology-ish," but instead she spent 6 years working as a paralegal for an insurance defense law firm. She eventually dropped back to working part-time at the law firm while getting her masters in HDFS at University of North Carolina at Greensboro (UNCG), with a plan to DFSwork with non-profit agencies. However, during her master's program, she tried working with non-profit agencies and discovered it was not for her, and so she continued on to get her PhD in HDFS UNCG. After a one-year post-doctoral fellowship with UNCG's Center for Youth, Family, and Community Partnerships, she joined UConn as an assistant professor of HDFS, and she cannot imagine a profession that would suit her better. Her favorite parts of her job are that there are so many different parts to her job, making it difficult to burn out on any single one. She loves the energy involved in teaching and mentoring, both graduate and undergraduate, and then recharging by hiding in her office and analyzing data, intermingled with occasional community trainings and applied work to remind her why she studies the things that she does.
Broadly speaking, Kari studies fathers, which has allowed her to dabble in a number of different content areas; by simply adding the phrase "with fathers" to any subject, a new area is open for exploration. To date, she has examined subjects such as the development and expression of fathering identities during the transition to parenthood, fathers' influence on child obesity, nonresident fathering and shared parenting following divorce (and recently, during COVID), and most recently, the processes involved in the transmission of risk behaviors such as substance use between fathers and adolescent children. Her passion for understanding and including fathers arose from experiences she had in college. At the time, Kari was interested in the prevention and treatment of child abuse and neglect, and her experiences included an internship with the Washington DC law office responsible for assessing and advocating for children's "best interests" in cases where abused children had been or were going to be removed from their homes. That experience led her to a local children's advocacy organization, who requested research on whether fathers influenced children's outcomes and should, therefore, be included in their abuse prevention efforts (which had previously and exclusively focused on mothers); spoiler alert, the answer (which might seem obvious now, but was relatively unknown at the time) was yes, they do, and yes, they should. Carrying that experience into graduate school, Kari noticed that in virtually every class about parents and families, all of the research talked about "parents," but all of the samples focused only on mothers. Unwilling to simply accept these gaps in our understanding of families, she has spent the last 20 years working to contribute to our knowledge of the varied and important ways fathers influence children and families. Kari also is fascinated by family theories and methodologies, and especially the ways that the theoretical lens or methodology we employ influence our findings as well as our interpretation of those results. In that vein, she has published several theoretical papers, a textbook on family theories, and is co-editor of the upcoming Sourcebook of Family Theories and Methodologies (due out this summer).
When she's not working, Kari enjoys relaxing with her husband at their home, located on just under 20 acres in Columbia, CT, and playing with the family pets, which currently include 2 dogs, 12 chickens, and 5 rats. She's a rabid fan of the Washington Capitals, Dallas Cowboys, Boston Red Sox, and UConn basketball (women's and men's), and also enjoys watching golf and tennis, and she enjoys watching them all the more so because she is skilled at exactly zero of those sports herself.
---